Description
A clean, precise and burrless cut and an excellent flexibility make Power Cut discs the best choice for operations on steel, stainless steel, aluminium and non-ferrous materials.
Chemically treated abrasive blends allow great performances, improving the disc elasticity and tenacity. Power range has been designed to be versatile, paying particular attention to materials and applications.
Discs are manufactured using top quality European raw materials, corundum and silicon carbide, mixed with resin bonds and special fillers.
The fibreglass reinforce nets are selected for their quality and strength, resulting in maximum safety when using the disc.
Power Cut Line features a complete range of sizes and specifications for cutting steel, stainless, aluminium and non-ferrous metals.
Discs are available for electrical and pneumatic hand-held machines, portable cut-off machines, angle grinders and stationary machines.
The great cutting ability, comfort and the clean cut are the main advantages of the thin wheels, making them the perfect choice for the productive worker.
One of the main features of Power Cut products is the cool cut which avoids thermal deformations of the workpiece. Tests run in our laboratory by professionals in the abrasive field showed the impressive performance of Power Cut discs on several materials (tubes, sections, metal sheets etc.).
Power Cutting Disc
How to read labels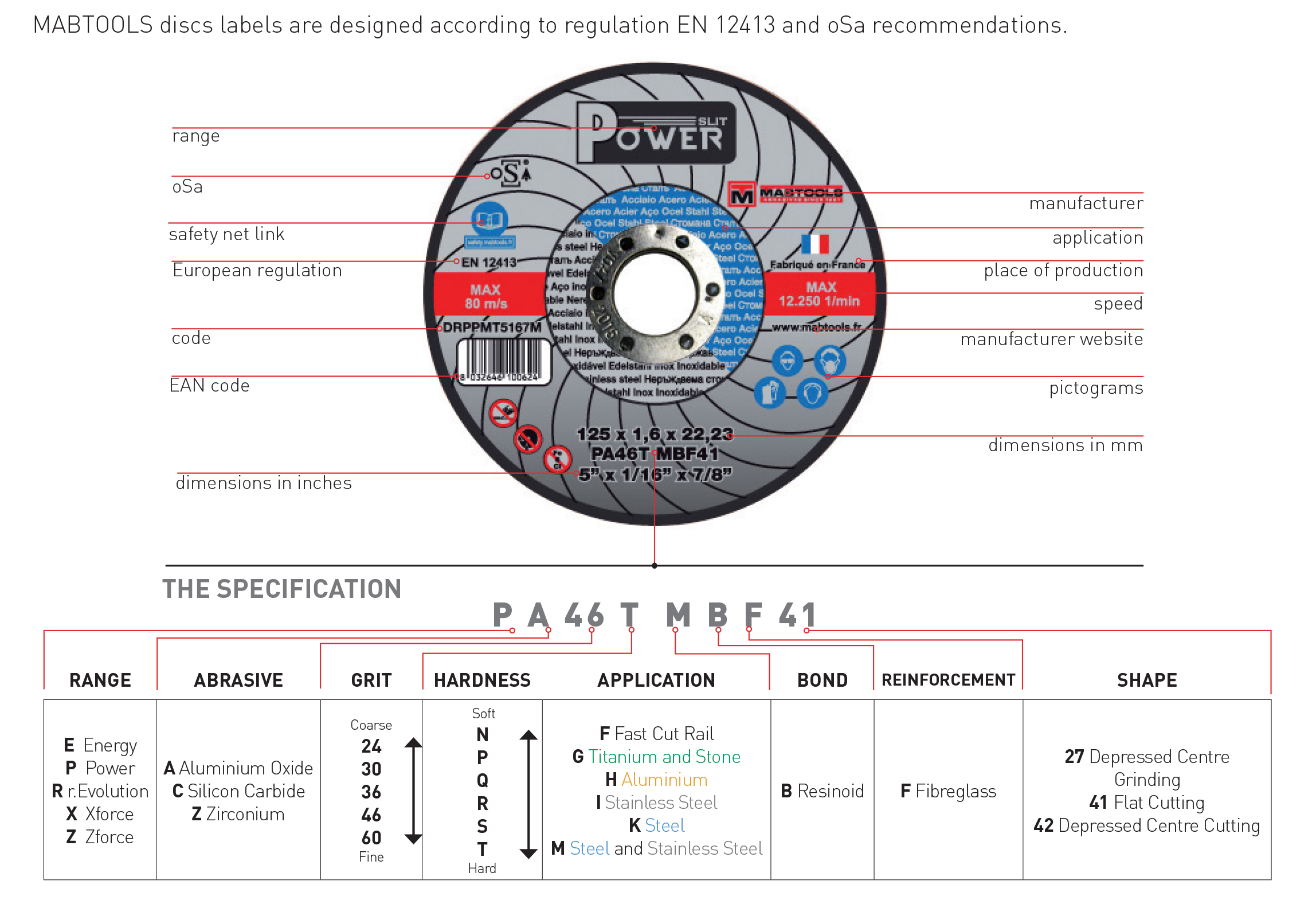 Depending on the application and workpiece, wheels are available in following styles:
Type 1 or 41 – Has a flat shape for maximum efficiency and usage.
Item Numbers  Packaging and Availability
| | | | | | |
| --- | --- | --- | --- | --- | --- |
| Item # | Size | Max RPM | Type | Pkg. Qty. | Availability |
| DRPEEX2103M | 3 x 1/32 x 3/8 | 19,100 | 1/41 | 50 | STOCK |
| DRPPMT2167M | 4 1/2 x 1/16 x 7/8 | 13,300 | 1/41 | 25 | STOCK |
| DRCPEX2251M | 12 x 3/32 x 1 | 5,100 | 1/41 | 10 | STOCK |
| DRCPMT4271M | 14 x 3/32 x 1 | 4,400 | 1/41 | 10 | STOCK |
| DRXPMM4381R | 14 x 5/32 x 1 | 5,400 | 1/41 | 10 | STOCK |