Description
XForce Cut identifies a range of professional cutting discs, designed and manufactured to reach the best performances. The main features of the XForce Cut range are long life, high balance, great cutting efficiency and absolute safety.
The XForce range has been designed for professional applications in the industrial fields as metal carpentry, auto bodies, tanks and pipelines, shipyards, energy and food industry.
The high performances, the perfect balance, the clean and burrless cut are the main advantages of the XForce cutting discs, making them the perfect choice for a fast and productive job.
The special XForce blend is sulphur, iron and chlorine free, and it's manufactured using top quality European raw materials, corundum and zirconium, mixed with resin bonds and special fillers.
Blend, structure and grain of these discs have been designed to grant the best risults in the most demanding and professional application, when the best efficiency is required.
The fibreglass reinforce nets are selected for their quality and strength, resulting in maximum safety even during the toughest operations.
The high quality of XForce discs grant the best performances with the same product both on steel and stainless steel. XForce discs can be used also on cast iron.
Main Features
Fast and clean cut, Long life, Perfect balance and stability, Absence of vibrations, High G factor, oSa certified, Sulphur iron and chlorine free, Made in Italy and France.
Main applications
Professional applications, Maintenance, Metal carpentry, Metal construction, Auto bodies industry, Shipyards, Tanks, Pipelines for gas and oil.
XForce Cutting Wheel
How to read labels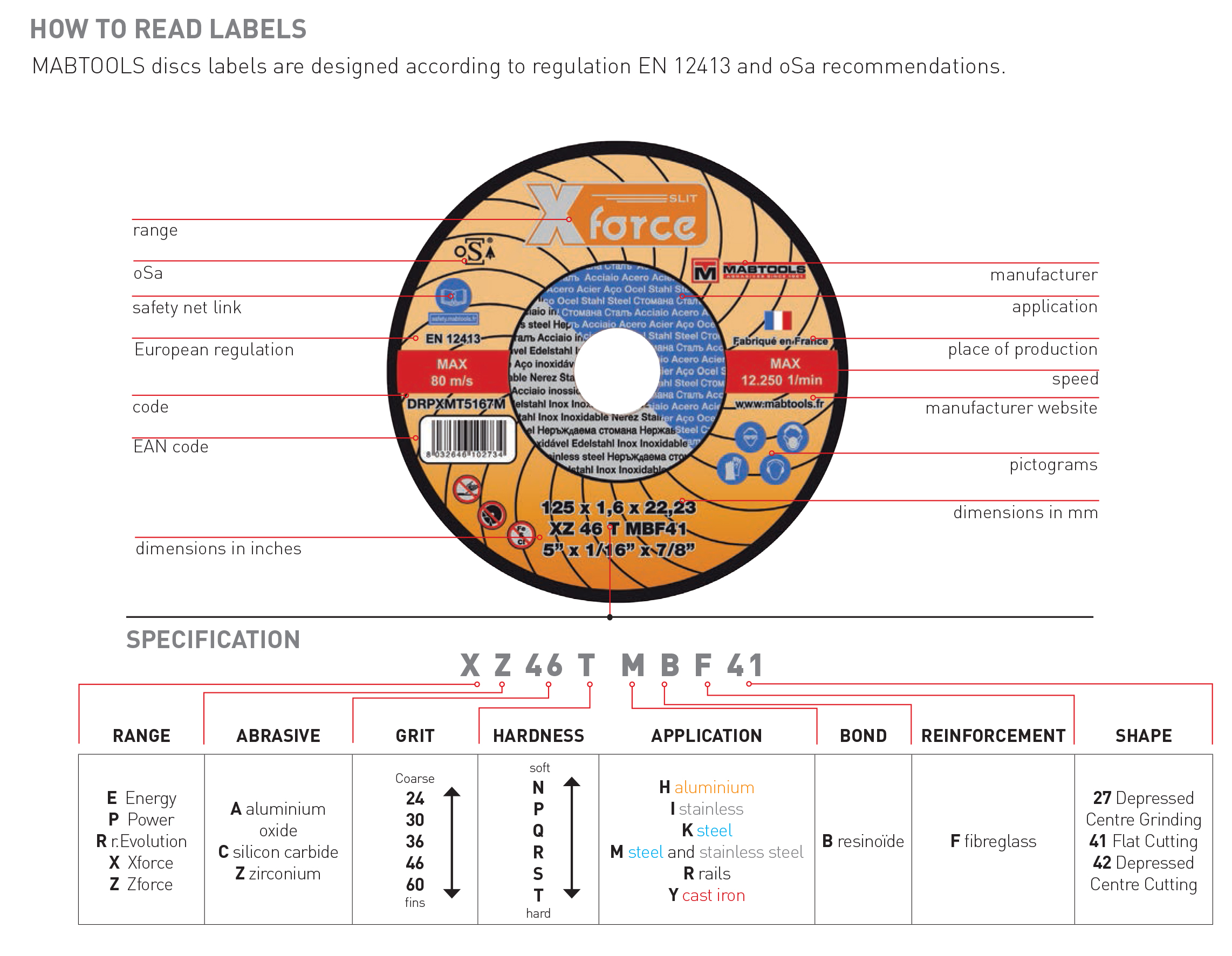 Depending on the application and workpiece, wheels are available in following styles:
Type 1 or 41 – Has a flat shape for maximum efficiency and usage.
Type 27 or 42 – Has a depressed centre shape for rigidity and surface cutting.
Item Numbers  Packaging and Availability
| | | | | | |
| --- | --- | --- | --- | --- | --- |
| Item # | Size | Max RPM | Type | Pkg. Qty. | Availability |
| DRPXMT2167M | 4 1/2 x 1/16 x 7/8 | 13,300 | 1/41 | 25 | STOCK |
| DRPXMT5167M | 5 x 1/16 x 7/8 | 12,250 | 1/41 | 25 | STOCK |
| DRPXMT6167M | 6 x 1/16 x 7/8 | 10,200 | 1/41 | 25 | STOCK |
| DRPXMT7167M | 7 x 1/16 x 7/8 | 8,500 | 1/41 | 25 | STOCK |
| | | | | | |
| DRDXMT2167M | 4 1/2 x 1/16 x 7/8 | 13,300 | 27/42 | 25 | STOCK |
| DRDXMT5167M | 5 x 1/16 x 7/8 | 12,250 | 27/42 | 25 | STOCK |
| DRDXMT6167M | 6 x 1/16 x 7/8 | 10,200 | 27/42 | 25 | STOCK |
| DRDXMT7167M | 7 x 1/16 x 7/8 | 8,500 | 27/42 | 25 | STOCK |